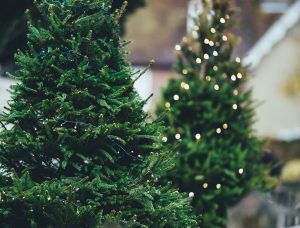 Well, Lafayette, it has begun again…this year, no sooner have we begun preparing the lot to sell Lafayette IN Christmas trees than we get our first customer. In this case, it was a wonderful young couple who is moving and wanted to celebrate their Midwest Christmas with a real tree from the Christmas tree farm. This is why we love what we do. The smiles on children's faces and the fun interaction, the excitement of choosing a Christmas tree and all of the wonder and spectacle of the "hunt."
There are plenty of local traditions as well. We have a very large crowd who come on Thanksgiving to select and sometimes cut their Christmas tree. Some families wait for the first snow day. Others come in only a week or so before Christmas looking for their special tree. Whatever the tradition, it is always fun.
With our large selection of evergreen varieties, we have the special Christmas tree for your Lafayette holiday season. Don't forget to buy a wreath, pick out roping and choose your decor this season as well. We offer a selection of these holiday decorations for your Lafayette, Indiana family.
We are still preparing the lot and we hope to see you soon, Lafayette!
While you're still in the mood, make sure to visit our tree and decoration pages and have a look around. We also found some great Christmas traditions from around the web and will be rolling them out throughout the holiday. Make sure to visit our tree care hints page for some of the secrets to maintaining your Christmas tree as well as your outdoor evergreens that provide such beauty year round here in the Midwest. Can't wait to see you at our Lafayette, IN tree farm! From our family to yours, Merry Christmas!